Repeat Awning Custom for Residential Property in Over, Cambridgeshire
20/07/2022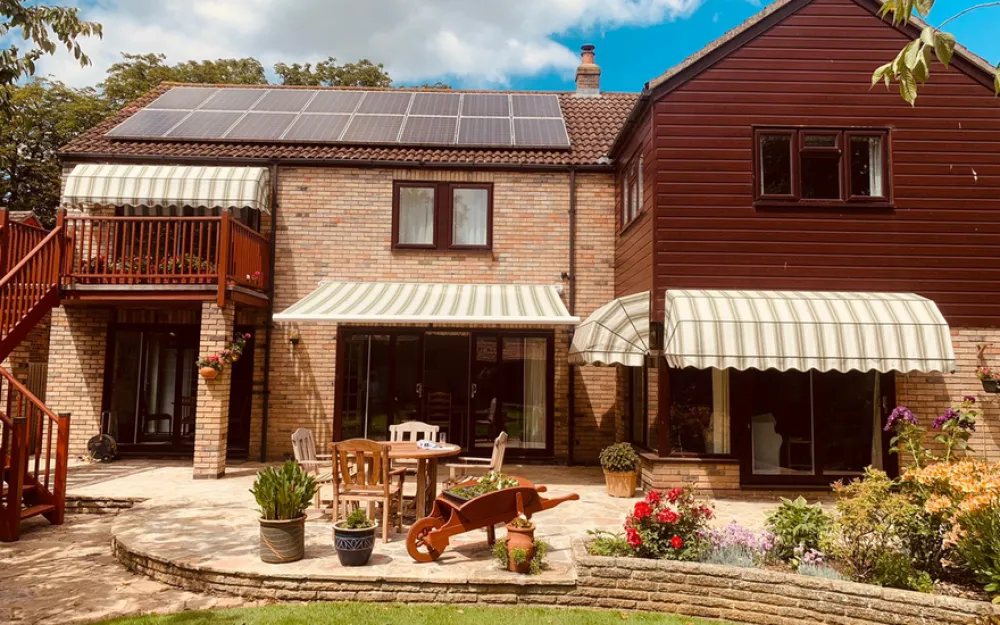 It's a reassuring testament to the quality of our work when a customer calls us up to request additional installations. In this instance the customer - who owns a residential property in Over, Cambridgeshire - initially asked us to recover two Dutch awnings back in 2018. We've been invited back twice since then to install additional awnings in matching designs.
Initial Refurbishment
We were asked to take down and remove two Dutch awnings. The workings of these were in good repair but the covers had seen better days. We removed the old covers and staples and thoroughly cleaned the frames in preparation for the new acrylic covers in Dickson Constant "Rome Green" D314. Then we refixed the awnings in the same positions as before the refurbishment.
Back for an Installation
In 2021, we were invited to return and install a further traditional four bar frame Dutch awning with a silver anodised frame and fabric to match the new covers we had installed during the previous visit. The valance was scalloped and the awning was operated by pull cord with a tie off cleat.
Going Electric
We returned this summer to remove an existing manual awning and supply and install a large electrically operated Weinor Cassita II full cassette folding arm awning 4m x 3m. Once again we matched the fabric material (Rome Green D314) to the existing awnings. A vibration sensor automatically retracts the awning if wind is reaching speeds where a fully projected awning could be damaged.
Find out more about our vast range of awnings online, or visit our showroom to see awnings in action! For a free quote and survey get in touch on 01603 410304 or email sales@cooksblinds.co.uk