Classic Roller Blinds for Southwold's Family-Owned Greengrocer and Florist
15/11/2023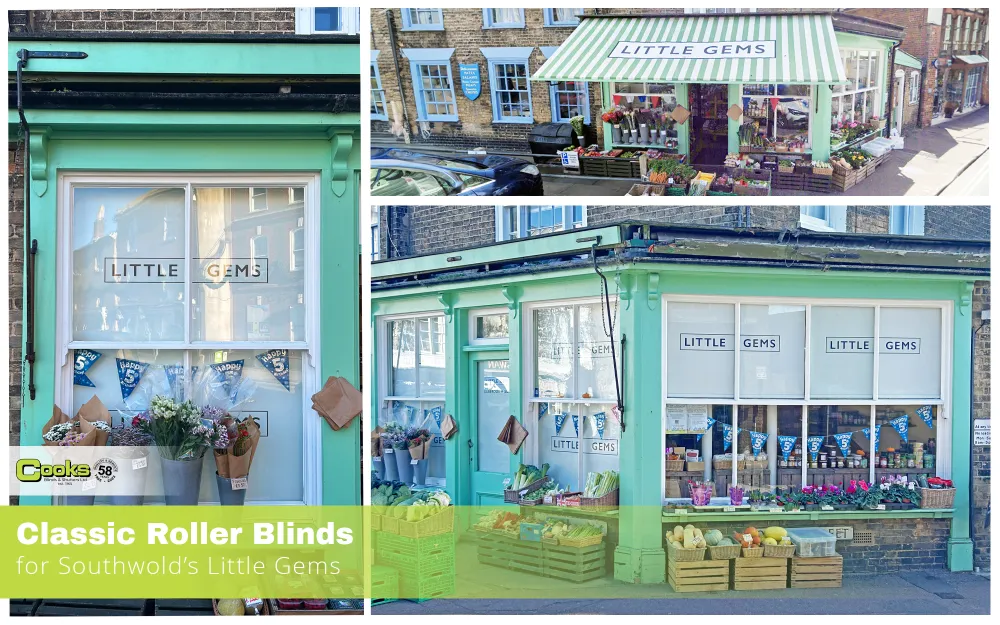 Southwold is a charming seaside town on the Suffolk coast, known for its sandy beach, colourful beach huts, and historic brewery. It is also home to Little Gems, a family-owned greengrocer and florist that offers fresh produce and beautiful flowers to the local community. We were delighted to work with them on a recent project to supply and install five roller blinds for their shop windows and front door.
Neutral Shade
The roller blinds we installed for Little Gems are made of Ex-lite pvc fabric, a durable and easy-to-clean material that is ideal for commercial settings. The canvas is a neutral shade that won't distract from the vibrant natural colours of the fruits, vegetables, and flowers on display. The white metal brackets and metal side control chains add a touch of elegance and functionality to the blinds.
Custom Printed Blinds
The roller blinds also feature logo printing on the top-middle and bottom-middle parts of the blinds, to showcase the name and brand of the greengrocer and florist. Cooks Blinds can custom print your blinds and awnings with your logo. We use high quality printing techniques to ensure a sharp and vivid image that can withstand the sun and weather.
Awning Refurbishment
This blind installation follows on from an awning refurbishment we carried out at the premises in December 2020. We replaced the old and worn-out awning fabric with a new one, in a smart traditional striped white and green pattern and prominent 'Little Gems' logo. The awning provides shade and protection for the shop front, as well as enhancing the kerb appeal of the business.
We are proud to have completed this project for Little Gems, and we hope they are happy with the results. If you are looking for roller blinds, awnings, or any other type of solar shading for your home or business, please contact Cooks Blinds on 01603 410304 or email sales@cooksblinds.co.uk today. We have over 50 years of experience in the industry, and we offer a wide range of products and services to suit your needs and budget.