New Blinds for Domestic Property in Woodton
05/10/2023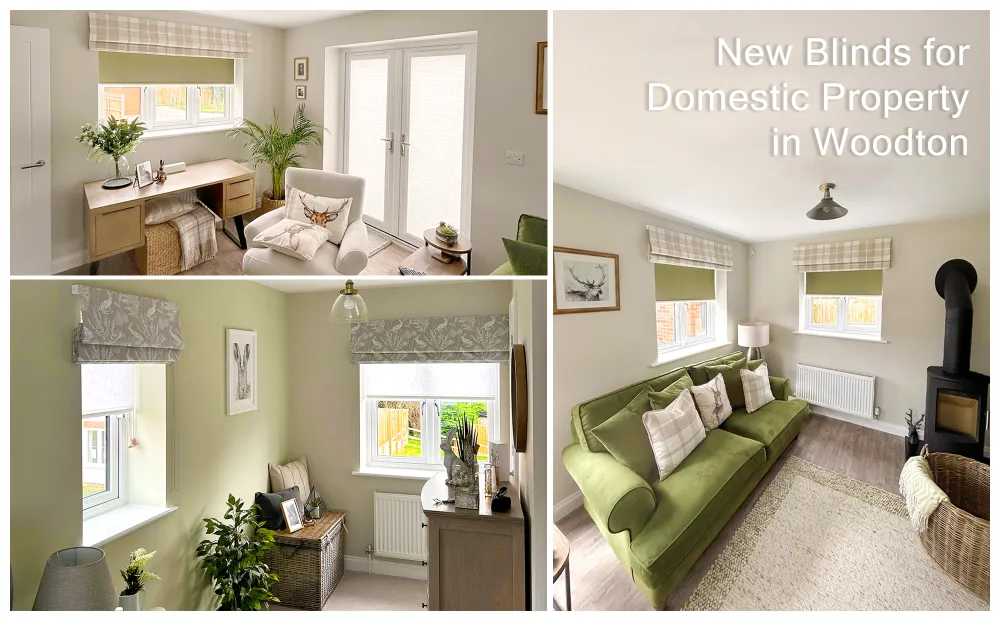 As the owners of this domestic property in Woodton will attest, blinds offer privacy, light control, insulation, and style. Our customers wanted a cosy bedroom, a private bathroom, and a modern lounge, and utilised blinds to great effect in nearly every room!
Let's take a walk around this house and look at some of the installation choices.
Master Bedroom and Spare Bedroom
In these bedrooms we installed roller blinds inside the window reveals and roman blinds outside the window reveals. There were five of each type altogether.
The rollers are in Vermont feather fabric - in a soft and elegant shade of grey - with white brackets and chrome side control chains. The Roman blinds are in Mull dove fabric, which is a darker grey with a subtle texture. The Roman blinds have blackout lining, which blocks out any unwanted light and noise for a peaceful night's sleep.
Bathroom, Kitchen and Stairs
For the bathroom and kitchen windows, and for the window on the stairs, we installed roller blinds in Vermont feather fabric, matching those in the bedrooms.
Dressing Room
The two roller blinds in the dressing room are in Windsor Heather fabric, which is a subtle and soothing shade of purple.
Lounge
In the lounge, we installed three Roman blinds in Balmoral natural fabric. Unlike the bedroom blinds which have blackout linings, the Roman blinds in the lounge have standard lining, which allows some natural light to filter through while still providing privacy.
We also installed two Perfect fit pleated blinds in Hive cellular deluxe colour white fabric, which always look great on glass doors. Perfect fit pleated blinds are fitted to the glazing bead with no screw fixings.
At Cooks Blinds and Shutters, we have a wide range of blinds to suit any taste and budget. We can supply and install blinds for any (or every) room in your house, using high-quality materials and professional service.
We hope you enjoyed this peek inside an elegantly furnished domestic property in Woodton. If you think blinds might be the perfect solution to light control in your property, please enquire today and our designers can create a unique and innovative solution bespoke for your requirements. Contact our sales team on 01603 410304 or email sales@cooksblinds.co.uk for more information.