Waterproof Pergola Louvred Roof System Installed in Gorleston
02/11/2023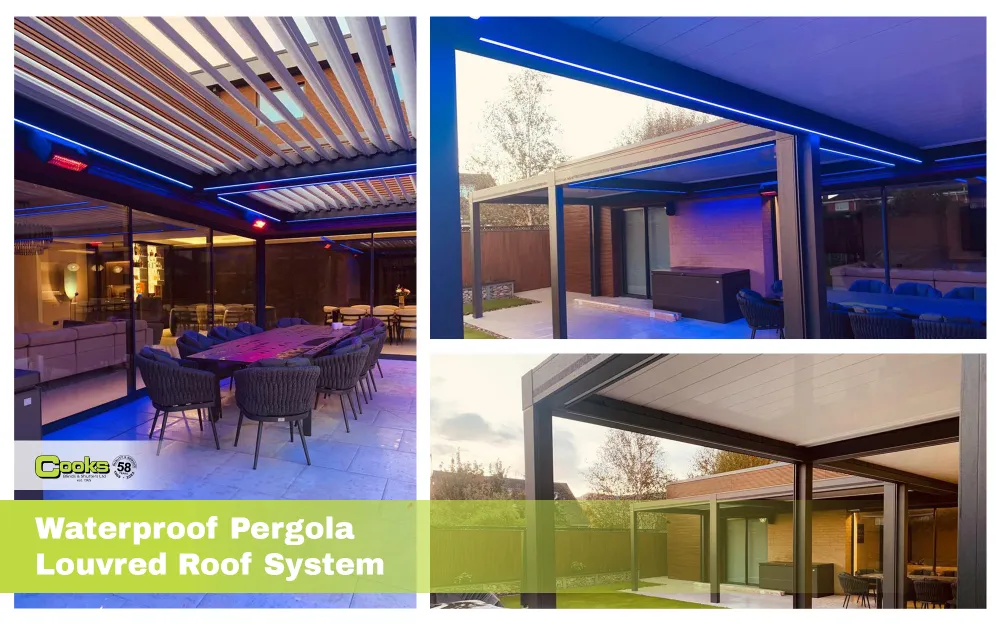 Cooks Blinds and Shutters Ltd recently had the pleasure of visiting the sun-drenched tourist haven of Gorleston-on-Sea just south of Great Yarmouth in Norfolk. This seaside town boasts an average of 1,800 hours of sunshine per year, making its famously long and golden sanded beach a popular destination for holidaymakers and locals alike. Our customer in Gorleston wanted to make the most of their outdoor space, and enjoy the sun without getting overheated. We recommended an advanced Weinor Artares Louvred Roof System, which provides both solar shading and shelter from occasional showers.
What is a Waterproof Pergola Louvred Roof System?
It's a modular system that consists of aluminium frames and a louvred roof that can be opened and closed electronically. The louvres are designed to create a flat roof when closed, and to allow air and light to pass through when opened. The system also has integral guttering for water drainage, so that rainwater is collected and diverted away from the structure. The system can be wall-mounted or free-standing, and can be customised to fit the shape and size of your outdoor space.
How did we install the Weinor Artares Louvred Roof System in Great Yarmouth?
Our customer wanted a wall-mounted Louvred Roof System with support legs that would cover their L-shaped patio area. We supplied and installed four sections of the system, each with its own motor and remote control. The sections can be opened and closed independently, giving the customer flexibility and control over their shading and ventilation. We also installed six zip screens to the outside elevation, which provide additional protection from wind, insects, and glare. The zip screens are made of durable fabric that matches the frame colour.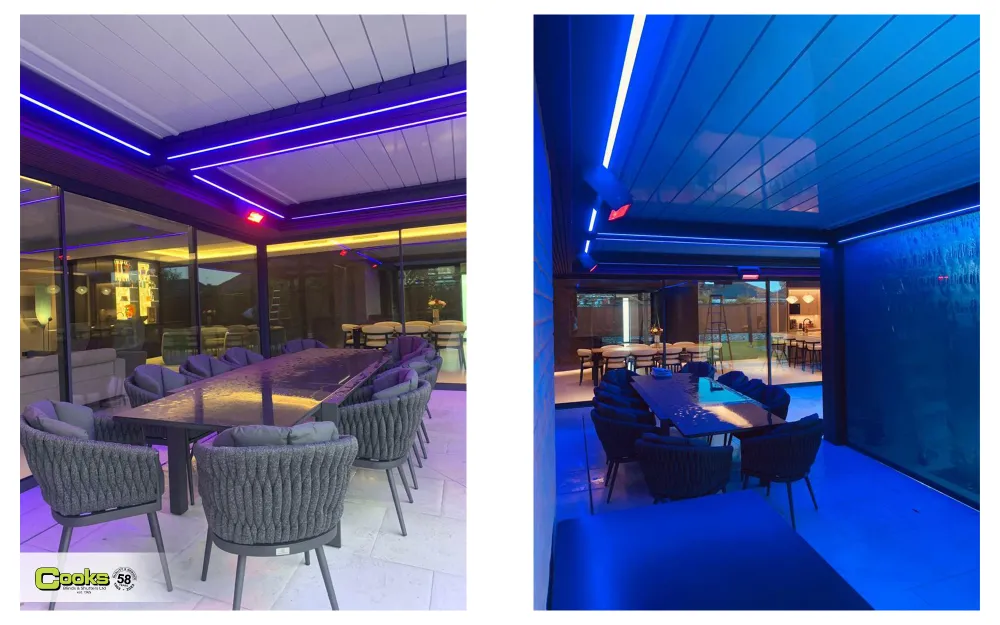 To enhance the comfort and ambience of the outdoor space, we also added LED internal perimeter lights to each section of the system, and four heaters spaced as required. The lights and heaters can also be operated by remote control, creating a cosy and inviting atmosphere for evening entertainment. The system has a height of 2500mm under the beams, which gives plenty of headroom for the customer and their guests.
What are the benefits of a Weinor Artares Louvred Roof System?
A Louvred Roof System is an ideal solution for anyone who wants to extend their outdoor living space in a stylish way. The system provides:
Weather protection. The system is waterproof when closed, so you can stay dry even when it rains. The system also blocks harmful UV rays, reducing the risk of sunburn and fading of furniture.
Temperature regulation. You can adjust the amount of sunlight and airflow that enters your space, helping you to keep cool in summer and warm in winter.
Style and elegance. The sleek modern design complements any architecture and landscape. You can choose from a range of colours and finishes to suit your taste and preference.
Contact Cooks Blinds today for your Weinor Artares Louvred Roof System
If you are interested in installing a Weinor Artares Louvred Roof System in your home or business, contact Cooks Blinds today. We are experts in solar shading solutions, with over 50 years of experience in the industry. We offer free consultations, surveys, quotations, and installations across Norfolk, Suffolk, Cambridgeshire, Essex, and beyond. We guarantee high-quality products, professional service, and competitive prices.
Call our sales team on 01603 410304 to arrange a free site inspection and quotation from our survey team.