Weinor Louvred Roof Is a Stunning Addition to Postwick Property
20/09/2023
Do you prefer being outdoors? If so, the Artares louvred roof system from Weinor is perfect for you. Because you can use it to regulate the bioclimate on your patio . If you open the louvres, warm air escapes above. You decide the amount yourself, depending on how the louvres are tilted. And, at the same time, the louvre positioning generates an attractive interplay of light and shade. In the evening, the coloured LED lighting provides atmospheric moments on your patio. The Artares system is available both as a free-standing or can be attached directly to the façade, all professionally installed by our Weinor trained engineers.
Louvred Roof in Postwick
We recently completed a project for a client in Postwick who wanted to install a freestanding louvred roof in their backyard.
We supplied and installed one electrically operated Weinor Artares, framed Louvred roof system.
The frame and Louvre colour were 7016 Grey textured, which nicely complemented the surroundings.
We incorporated 4 strip LED lights in 4 of the Louvres. This will provide soft ambient lighting for evening and nighttime use.
We also installed 2 x 4500mm wide Weiner Screens in fabric 7-203, which offered privacy and protection from insects and wind.
The finished structure enclosed a spacious and inviting outdoor area measuring 4500mm x 4500mm.
Benefits of a Weinor Louvred Roof
Louvred roofs offer many benefits for homeowners who want to enjoy their outdoor space all year round:
Versatility. You can adjust the angle of the louvres to suit your preferences and the weather conditions. You can create a cosy and sheltered space when it is cold or rainy, or let in more light and air when it is sunny or warm.
Durability. The louvred roofs that we supply and install are made of high-quality materials that can withstand harsh weather and UV rays. The frame and louvre come in 56 stunning colours, powder-coated to prevent rusting and fading.
Style. Add a modern and elegant touch to your property. Colours, sizes, and designs can be chosen to complement your existing architecture and landscape.
Functionality: Talk to our sales team about hooking up additional features such as LED lights, screens, heaters, and speakers to create a comfortable and entertaining outdoor space.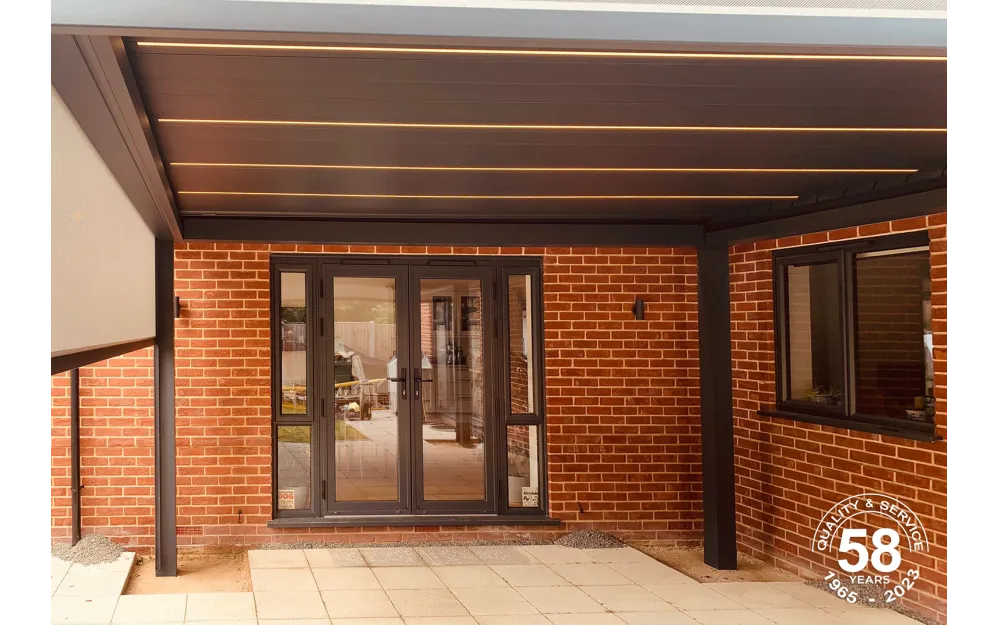 If you are interested in installing a freestanding louvred roof for your property, contact us today for a free site survey. Cooks Blinds and Shutters is a family-run business with 58 years of experience in providing quality products and services for our customers. Call us on 01603 410304 or email us at sales@cooksblinds.co.uk to get started. We look forward to hearing from you!